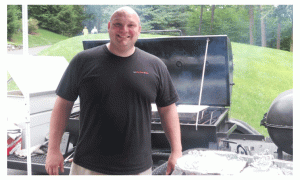 The Story of Downback BBQ. . . It was back in 1994 when I had my first pig roast party "down back" behind my father's barn. I don't remember the number of people that attended, but I know we went through four kegs of beer and there were only bare bones and a few little scraps of meat left of the 150 lb. pig. It was a successful party and people have been raving about it ever since, asking me when I am going to throw another one. It was then I found a new love in my life, entertaining and cooking for my friends and family. There were many detours in my life, but my love for food and entertaining never swayed. It took me fifteen years to finally set up my pig roast and grilling business and embark on this journey. I wanted to buy a pig cooker so I could host annual pig roast parties. To my amazement my father built me a pig cooker like no other. It is on a homemade trailer accompanied with a mini cooker, a sink, and storage box. Not only can I have pig roasts at my house, but I can bring the pig roast to yours.
When I booked my first pig roast I needed to distinguish myself from other pig roast masters. My solution was to create two homemade BBQ sauces, one sweet and the other tangy, to serve with the pork. It wasn't until after the fifth pig roast I booked when it occurred to me that I can save money by combining both sauces into a sweet and tangy sauce. Combining both flavors allowed me to provide a sauce that gives you just enough heat to provide a sauce that all party guests can enjoy. I simply called the sauce Joe's Sweet and Tangy BBQ Sauce. When I went to think about bottling and selling the sauce I had to think about creating a label. Through the help of my wife Jen, and friends Joe and Christa, the name Downback BBQ and its logo was created.
Thank you to all the people who have helped me along the way so far on this BBQ adventure and I look forward to working with many others in the future.
My mission is simple; provide people with a variety of flavorful sauces and dry rubs that bring out the best tasting food for the everyday "BBQ'er"